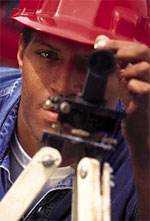 CONSTRUCTION ENGINEERING / FIELD SERVICES
Adler provides Construction Monitoring services. Construction plans and specifications specify a multitude of requirements that must be met and monitoring is necessary to verify compliance with the plans and specifications. Adler's construction monitoring entails quality control testing, quality assurance oversight, and construction documentation for the purpose of assuring compliance with specifications. Proper and complete construction monitoring is a critical aspect of successful projects. During construction monitoring, Adler strives to provide the client with not only an inspector, but also a consultant who can offer valuable advice when the need arises.

Adler has provided quality control and quality assurance (QA/QC) services for the following construction activities:
Ø General Earthwork
Ø Concrete
Ø Asphalt
Ø All types of shallow foundations
Ø Deep foundations, specifically drilled piers and driven piles
Ø Soil Compaction Evaluations
Adler also provides various other site-specific subsurface investigations.
Ø Soil Quality Testing
Ø Soil Permeability Analyses/Percolation Tests
Ø Septic System Soil Evaluations
Ø Soil Resistivity Analyses